Director's Message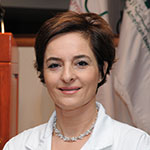 Simulation refers to the imitation of a real-life situation in a controlled environment to achieve educational goals through experiential learning. Simulation-based education provides a structured, learner-centered environment in which novice, intermediate, and advanced practitioners can learn or practice skills without causing harm to patients. It is an important methodology in bridging the gap between theory and practice in medical education.
Our Clinical Simulation Center represents a living collaborative between all health care professions, where the needs of the patient come first.
It is through this lens — to best serve our patients — that our center works to fully realize the benefits of simulation-based education, practice and research opportunities. This is well reflected in our motto: "Using simulation education to improve patient safety and quality in health care."
LAU's CSC is a national leader in simulation-based education for health care students, in addition to providing CME programs for community physicians, nurses, paramedics and the public. The training of critical care healthcare teams is also a focus of the center's educational programs and provides the opportunity for some unique research in simulation-based education.
We invite you to visit our innovative and comprehensive simulation center to discover the wide range of educational opportunities we can offer through our skills practice rooms, manikin-based simulation rooms, clinics, smart classrooms and debriefing rooms.
Vanda Abi Raad, MD, MHPE