Literature Review
There is a wide range of interesting and important publications each week, and it is difficult to keep an overview of all journals which deal with the huge variety of subjects that matter in education and simulation. Please take a moment to browse through the different categories and discover the literature with relevance to your daily work. Should you have any queries, please contact Mrs. Rana Akiki at info.csc@lau.edu.lb
For LAU Faculty:
How to access the full text of your favorite articles.
Choose the appropriate article that is related to your field of interest.
Login to the LAU website at www.lau.edu.lb
Go to "Libraries".
Select the "Research" section.
Choose "Online Databases".
The page will open for you a variety of online databases.
Scroll down to see PubMed, click on it.
A "Sign In" page opens. Please log in using your LAU username and password.
The PubMed page opens.
Copy and paste the article's name there and press enter. You will get the article's abstract.
On the right upper section of your screen, you can see if it is available through LAU's Library.
You can then access your full text from there.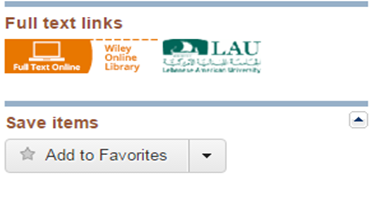 Recent publications in Simulation Based Education