Third Module of Clinical Simulation Diploma
Jun 7, 2016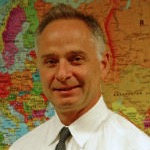 John (Jack) R. Boulet, Ph.D., Vice President for Research and Data Resources at FAIMER, delivered the third module of the Clinical Simulation Diploma to our 22 participants from the LAU health schools as well as for other Lebanese schools of medicine.
The 3-day module took place at the Clinical Simulation Center, Byblos, June 9–11, 2016.
It provided an overview of the principles of educational measurement as applicable to simulation, including the development of relevant assessment objectives, formative and summative assessment methods, scale construction, reliability estimation and validity issues.
Dr. Boulet is well known to Lebanese educators since he delivered workshops about simulation-based education during the first International Medical Education Conference organized by LAU's Gilbert and Rose-Marie Chagoury School of Medicine in November 2014.