Ms. Maha Habre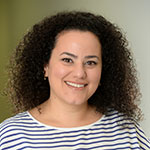 M.S.N., RN, CEN
Clinical Instructor
5200 B, Chagoury Health Sciences Center, Byblos Campus
Phone: +961-9-547254 ext. 2498
Email: maha.habre@lau.edu.lb
The Use of Simulation-Based Education in the Nursing Curriculum
The Alice Ramez Chagoury School of Nursing (ARCSON) program is unique in the region since it adapts the concept-based approach to learning and is accredited by the Commission on Collegiate Nursing Education (CCNE).
We at ARCSON believe that the use of simulation helps develop the students' knowledge, skills, and attitudes across the simple-complex continuum. Simulation as a teaching and testing innovative strategy is being used regularly in the education of undergraduate nursing students at LAU. Whether it is a basic nursing skill or a complex patient situation, nursing students start their practice at the Clinical Simulation Center where mistakes, if they occur, become learning opportunities.
The ARCSON Bachelor of Science in Nursing is a three-year program, and simulation is integrated starting in the first year courses until graduation. The complexity of the simulations increases over the years. This includes basic clinical skills learned and practiced on task trainers, role play, medium-fidelity simulated scenarios like a woman in labor and delivery, as well as high-fidelity simulations in which students are immersed in the care of a critically-ill patient. Such simulations are planned so that students will be ready to care for patients in the clinical setting, maintaining safety and quality.