Committees
Steering Committee
A Steering Committee composed of the deans of the three health sciences schools — Dr. Michel Mawad, Dr, Anahid Kulwicki and Dr. Imad Btaiche — holds the overall responsibility for the direction and administrative oversight of the Clinical Simulation Center.
Liaison Committee
A Liaison Committee composed of Dr. Vanda Abi Raad, Mrs. Nelly Chammas, Dr. Nadia Asmar, Mr. Rudy Bahri, Mrs. Maha Habre and Dr. Lamis Karaoui, meets regularly and provides input and feedback on the services and resources of the CSC.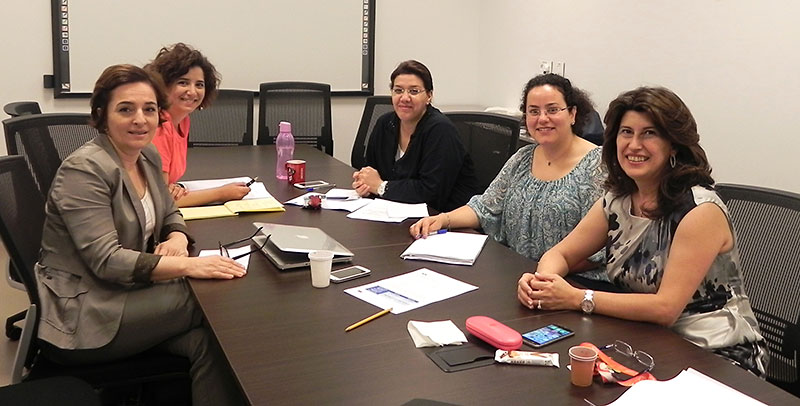 From left: Dr. Abi Raad, Dr. Karaoui, Mrs. Chammas, Ms. Habre, and Dr. Asmar.
A few words about the Clinical Simulation Center by Liaison Committee members:

Nadia Asmar, MD
Assistant Professor
Gilbert and Rose-Marie Chagoury School of Medicine

Maha Habre, M.S.N., RN, CEN
Clinical Instructor
Alice Ramez Chagoury School of Nursing

Lamis Karaoui, Pharm.D., BCPS
Clinical Assistant Professor
Director of Experiential Education
School of Pharmacy